For the past fifty years, Volna Engineering has provided one-of-a-kind solutions to difficult measurement and tooling problems for the aerospace and defense industries. Significant trademarks of Volna Engineering design embody the principles of "kinematic coupling," as follows:
Any free solid body has six possible degrees of freedom in space -- three of translation and three of rotation.
If a body has six degrees of constraint, it has no freedom.
If a body has more than six, a condition of stress exists.
Removal of constraints, one at a time, allows additional degrees of freedom for a specific task in any machine or measuring instrument.
A machine element with one necessary degree of freedom and more than five degrees of constraint will have uncertain performance (hysteresis), higher friction, and higher cost.
If you are currently planning a device, product, or machine that must possess high precision performance for the least cost, consider the use of "kinematic coupling" design principles. Contact Volna Engineering for consulting fees and possible fabrication details. One day seminars are encouraged.
Products of Kinematic Design
The following photos of Volna Engineering products are examples of kinematic design that have successfully stood the test of time with undiminished performance:
Other Products
Solar Energy Research
A two-axis solar tracker, which requires less than 10 watts to drive it, produces 2 kilowatts of heat energy, and heats 100 gallons of water to 100 degrees F. in 8 hours of daylight. Behind the control console are two solar stills, each of which alone desalinizes 18 gallons of salt water on an October day.

Environmentally Controlled Portable Astronomical Observatory
Designed and built for use in hostile climates.
Customers Include
Chung Shan Institute of Science and Technology, Taiwan
Honeywell
Kavouras
Micro Component Technology Corp. (MCT)
Minnesota Mining & Manufacturing (3M)
Unisys
U.S. Air Force Wright Patterson AFB
U.S. Navy, Bremerton, WA
Volna Engineering Facility
Volna Engineering is a sole proprietorship founded in 1968 in Minneapolis, Minnesota, by William M. Volna, a graduate mechanical engineer. The 4,000 sq. ft. company-owned facility (below) contains a wide selection of lathes, milling machines, grinding machines, and welding equipment. Computer-aided design is used in all design drawings and documentation.
In a separate facility, Volna Engineering has added an optical fabrication shop with a 16 in. diamond curve generator, several Strasbaugh polishers, a 16 ft. optical bench, a 21 in. vacuum coater, a 35 in. vacuum coater, and an 18 in. Zygo interferometer.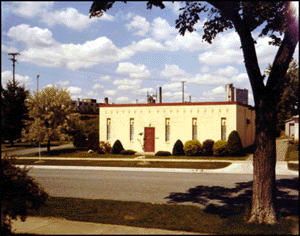 Contact
William M. Volna Engineering Company
1808 Quincy Street Northeast
Minneapolis Minnesota USA 55418

Telephone: 612-781-1322
Facsimile: 612-781-1420